For thousands of years, sailing in dragon boats has been associated with Chinese tradition and culture. At the bow of each boat there is a dragon's head, and dragon's tails at the stern. Each boat seats 20 rowers, 10 on each side, with wooden oars symbolizing the dragon's legs. In addition, each boat has a both a drummer and a person in charge of the rudders. In general, the rowing is for distances of 200, 500 or 1,000 meters but also greater distances on traditional festivals.
Sailing in dragon boats is unionized under the auspices of the International Dragon Boat Federation (IDBF) established in 1991. Since then, the organization has seen rapid development. At present, 33 years after the first international festival held in 1976 in Hong Kong, there are more than 50 million registered members in China, 300 thousand in Europe, 90 thousand in the USA and Canada, as well as thousands in Australia, New Zealand and various countries in the Middle East.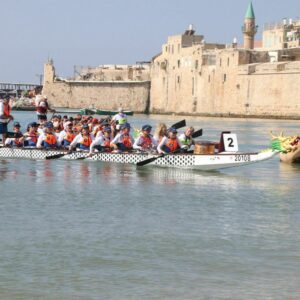 Dragon boat racing is divided into two different categories: a competition race and festival races. Competition races at events organized by IDBF or its European and Asian counterparts EDBF and ADBF are carried out by professional international teams. Alongside the competitive area are also championships and recreation events for whoever wants to enjoy what this unique sport has to offer. One of the things that make dragon boat racing so popular is the fact that a team of rowers can become competitive very quickly, without its members having had any prior knowledge of the sport itself or any other type of rowing for that matter.
Many teams that take part in these recreational events come from community teams, teams of commercial companies or organizations, and dragon boat sailing is a great way of creating greater group cohesiveness, which strengthens the team spirit.
Sailing in dragon boats is a relatively new area of marine sports in the Western World; however, it is generally agreed that it has a bright future. As of the year 2022, it is the fastest growing water sport, and has a very good chance of becoming an Olympic sport in the near future. One of the advantages of this unique water sport is the fact that it is a recreational activity that anyone can take part in according to his or her own individual level, goals, and physical fitness. This is what makes this rowing sport so special.
In rowing it is important to maintain good technique and keep in rhythm with your partners, and this requires keen concentration. With G-Float you can be sure your favorite glasses are protected while moving rapidly and professionally towards the finish line.
We at GFLOAT are proud of the privilege of allowing the dragon boat rowing community to engage in marine activities with glasses without worrying about them. Contact us for a special offer for you.